ELECTRIC ENGINE OF CANTIERE ERNESTO RIVA SHIPYARD AWARDED AT MONTECARLO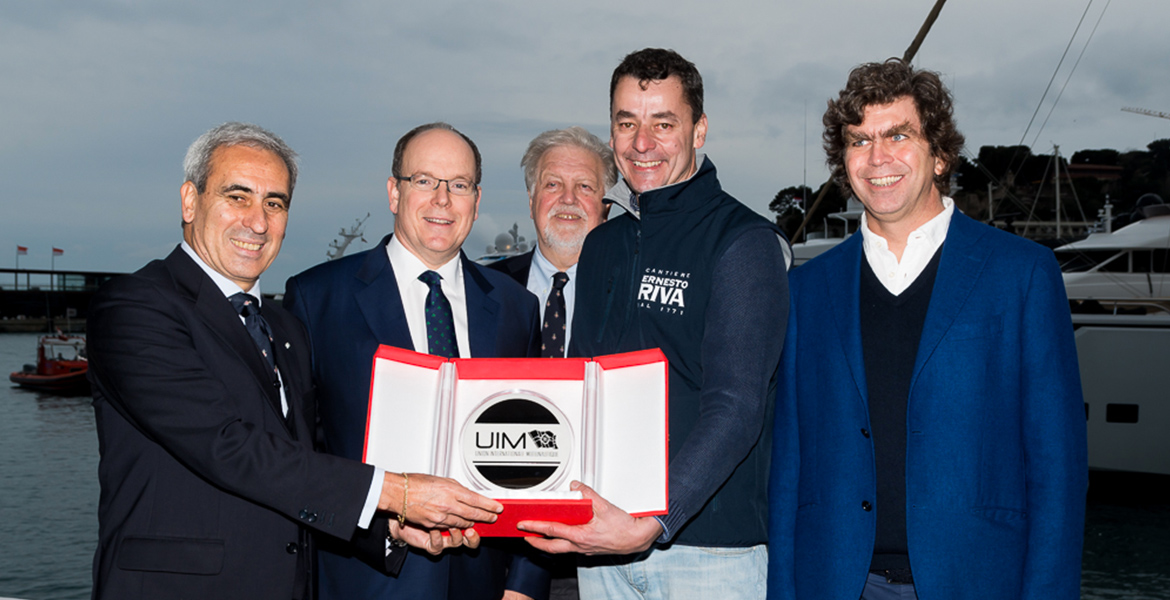 The interest for "Ernesto" started directly from the Monegasque sovereign family, strongly oriented towards making Montecarlo more and more avant-garde in sustainable mobility. In the presence of Prince Albert, who was able to personally experience comfort and open space of the prototype of the Cantiere Ernesto Riva shipyard with a short navigation in front of the Yacht Club of Monaco, Daniele Riva received from the president of UIM, dr. Raffaele Chiulli, the UIM Special Award for Sustainable Development, a prize for its ability to combine electrical modernity with tradition. Together with Daniele Riva, the arch. Germán Mani Frers.

The recognition and appreciation at the Cantiere Ernesto Riva yard was also expressed in the crowded Press Conference and the Gala on Saturday 17 March. The dr. Chiulli and the dr. Marco Casiraghi, along with Daniele Riva and Mani Frers, wanted to present what will be the culmination of the Principality's green policy: the Solar and Electric Boat Challenge to be held in mid-July in the waters of Monaco. Opportunity for hundreds of university students (including Italian students) to experiment their research in the field of sustainable mobility, the Challenge will have "Ernesto" among the guests to demonstrate how the electric can enter both in everyday life and in the elite of boating.

The E-commuter "Ernesto", exhibited outside the Sporting Montecarlo, after the support of Italian institutions such as the Lombardy Region and CNA, has now found international credit, demonstrating the enormous potential of the intuition and work of Daniele Riva who comments: "I am very happy that the centenary tradition of my father's yard has been recognized, in such an important context, as one of the main ways to develop innovation and the future of boating".
Here the video of Ernesto at the Yacht Club of Monaco in the presence of Prince Albert.